As dirt and other contaminants build up over time, your surfaces can begin to look dull, darkened, or discolored. Most homeowners in the Dunedin, Clearwater, and Palm Harbor areas know how difficult tile and grout cleaning can be, especially when you are trying to eliminate stubborn dirt and stains that have settled on the surface or deep within the lines. The fact is that many DIY home cleaning methods are simply unable to thoroughly penetrate the buildup and dirt that has settled into those hard-to-reach areas, particularly when debris becomes trapped in the pores of the tile and grout. Luckily, Healthy Home Tile and Carpet Cleaning is here to come to your rescue in order to keep your floors clean, fresh, and beautiful.
Excellent, excellent!


Happy Customer
Highly recomend Jim for your tile cleaning. He did a perfect job!!!!!!!! for a good price on my tile.


Happy Customer
Jim is a professional who takes great pride in his work. We will have him back to clean and seal our tile throughout the house!


R.H.
The Importance of Clean Tiles and Grout
Whether you have ceramic, stone, or porcelain, dirt and discoloration can make even the most expensive surfaces look dull and unattractive, cheapening the look of the entire room. More importantly, in rooms that are prone to high humidity and moisture, such as bathrooms, unclean porous surfaces can develop mildew and bacteria.
The bacteria known as Serratia marcescens is most commonly seen in bathrooms where it manifests as a pink or orange color that feeds off soap and shampoo residue. In many cases, regularly applying bleach-based disinfectants to the area, rinsing, and drying can prevent the bacteria from forming. However, a professional tile and grout cleaning company in the Dunedin, Clearwater, and Palm Harbor areas is the best option for prevention and eradication.
The Tile and Grout Cleaning Process
Although many companies have a different approach to the tile and grout cleaning process, as the owner and operator of Healthy Home near Dunedin, Clearwater, and Palm Harbor, I have developed and efficient three step process:
STEP ONE:

A specifically designed scrubbing machine and heavy-duty cleaning agents are used to clean dirty mortar lines.

STEP TWO:

Using high temperature and high pressure equipment, dirt and grime are removed from your floor or countertops.

STEP THREE:

The surface is scrubbed down once more using an acid cleaner designed specifically to rejuvenate your floors.
In addition to professional tile and grout cleaning service, I will also show you how to properly maintain the surfaces in your Dunedin, Clearwater, or Palm Harbor area home to keep them cleaner longer.
It is important to note that while natural stone will receive treatment steps one and two, they do not receive step three, as the acid is not compatible.
Healthy Home guarantees that even without this step, you will be satisfied with the way your natural stone surface looks.
Call Healthy Home Tile and Carpet Cleaning Today!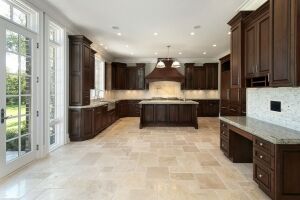 When you call me at Healthy Home for tile and grout cleaning services, you do not get inexperienced technicians showing up at your door. Instead, as the owner, I will show up ready to work on your Dunedin, Clearwater, and Palm Harbor area home.
For over 20 years, I have worked with the customer satisfaction policy:
You will be 100% satisfied with my work, and it will be your best service ever or it's free!
Today, Healthy Home Tile and Carpet Cleaning receives 70% of our business from repeat customers and 15% from customer referrals, and not one customer has ever been dissatisfied with the work to take me up on this offer.
In addition to professional work, Healthy Home near Dunedin, Clearwater, and Palm Harbor also offers a free demonstration before you commit to services. I will visit your home and clean one single spot in order to show how effective my methods will be. You will be amazed at how fantastic it looks after my maintenance methods are applied!
If you are interested in setting up a free demonstration, or if you are ready to make an appointment with the tile and grout cleaning master himself, call me today at (727) 599-4252.