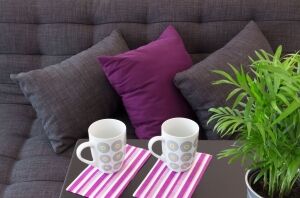 While weekly brushing and vacuuming can extend the life of your furniture, Healthy Home Tile and Carpet Cleaning's deep upholstery cleaning service can ensure your old or new fabrics look like new for years to come. For many residents in Dunedin, Clearwater, and Palm Harbor, buying furniture is a time-consuming process, which consists of choosing the right size, style, and fabric. If you've found the perfect furniture that turned your house into the warm, inviting home you always dreamed of, it's important to you that your fabric stays clean and intact as long as possible.
He was prompt and he did an excellent job cleaning my furniture.


Happy Customer
Amazing the time he took and his thoroughness in cleaning upholstery. Very impressed and would definitely call again.


Vic Waltz
I was thrilled with the results. Our love seat is like new. Jim was great and I recommend him to anyone looking for a professional.


L.D.
What Can Upholstery Cleaning Do?
Calling for Dunedin, Clearwater, and Palm Harbor area professional service is essential for preserving the life and look of your cloth-based sofa or chairs because professionals are able to go deeper than basic DIY jobs can. It is recommended to deep clean your surfaces regularly, though not many do so.
By neglecting the deep-wash process, items such as sofas, loveseats, ottomans, and other fabric-based furniture are left to collect pollutants such as skin cells, dust mites, food crumbs, pet dander, body oils, and more. As these pollutants accumulate, the fabric can lose vibrancy, hold foul odors, or release allergens. Individuals who often face frequent allergy attacks may not realize that regular calls to their local Dunedin, Clearwater, or Palm Harbor professional can drastically decrease the amount of bacteria and other allergens in their close environment.
The Healthy Home Process
As the owner and sole technician of Healthy Home, I, Jim Pastore, have cleaned thousands of different types of materials and furniture in the Dunedin, Clearwater, and Palm Harbor areas. In my 25 years of experience, I have successfully developed a four-step process of upholstery cleaning that is safe and effective.
Test: Before any plan of attack can be put into action, it is important to ensure complete safety for the fabric. All colors and materials are tested to ensure the items are color fast and safe to wash. During this step, any stains or trouble areas will be identified and prepared for special treatment.

Vacuum: A dry vacuum then removes pet hair, dirt, food particles, and excess debris in order to ensure the upholstery cleaning process can penetrate the surface without any blockages. Animal fur and human hair can get particularly entangled in fibers, so I will brush the item first in order to loosen these strands for the vacuum to be more effective.

Shampoo: I will then take great care to shampoo the item by hand, loosening dirt, oils, and stains from the fabric. It is important to know that numerous types of furniture and materials exist, which means cleaning methods can vary.

Steam: Lastly, the items are steam cleaned to remove all dirt, grime, and pollutants deep within the cloth. This extraction upholstery cleaning method seeks to use the power of steam to both extract dirt from fibers and moisture from fabric, which eliminates odors.
Call Today for a Healthier Home!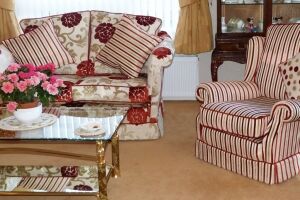 I created Healthy Home Tile and Carpet Cleaning in order to provide Dunedin, Clearwater, and Palm Harbor residents with the highest standards of customer service and impeccable tile, grout, carpet, and upholstery cleaning results. After the service is complete, I will show you simple steps to take care of your materials to ensure a longer, stain-free lifespan.
As a knowledgeable professional in the home care industry, I have become a trusted figure within the community. In fact, I am so confident in my work and so dedicated to customer service, that I guarantee this will be your best service ever, or it's free!
Call Healthy Home in Dunedin, Clearwater, and Palm Harbor today at727-599-4252 to make an appointment for upholstery cleaning. I will visit your home, review the fabrics, and give you my honest, professional opinion to ensure your home's fabrics look great.