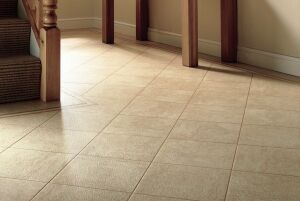 Vinyl and linoleum cleaning is a vital professional service you need to add to your routine if you haven't already. Over the years, your floors will undoubtedly start to look worn out and older no matter how spotless you are. Fortunately, Healthy Home Tile and Carpet Cleaning has the solution to this problem, because sometimes all it takes is some work with a professional. As the owner, I use only the highest quality products on the surfaces of your Dunedin, Clearwater, or Palm Harbor home to ensure you will end up with the very best results.
There are many factors that go into determining what other products will be used after the initial scrubbing during vinyl and linoleum cleaning. Depending on how old the floor covering your Dunedin, Palm Harbor, or Clearwater home is or how scratched and worn the surface appears are just a few of the factors that are taken into consideration. Two coats of high quality wax can be applied after the first step, and will have you satisfied and your guests wondering if your floors are brand new!
However, before any work is done in your home in Dunedin, Clearwater, or Palm Harbor, set up a consultation for a free inspection. This way we can determine the vinyl and linoleum cleaning needs of your surface and the best methods for the desired results.
Good follow up, work done quickly and professionally. Very satisfied!


J.L.
Jim did a great job. I highly recommend him to anyone. Very impressed!


J.H.
Quick Response to request. Outstanding results. Excellent professional.


D.F.
How I Can Help You
Beyond this popular service, Healthy Home Tile and Carpet Cleaning also provides a wide variety of others for any of your floor upkeep needs:
Marble Polishing: I polish with four levels of diamond polishing pads and with a low water system and no powders, so mess is minimal. Not only will your floors look better that day, but I will also show you how to maintain your floor yourself for a shine that will last for years to come.

Oriental Rug Work: I have the knowledge and experience you can trust when it comes to vinyl and linoleum cleaning and also taking care of the oriental rugs in your home in Dunedin, Clearwater, or Palm Harbor. There are several factors that I take into account: What is the rug made out of- synthetic or natural fibers? Are the colors in the rug safe to work on? Are pets a factor when it comes to upkeep? Are there pre-existing damages?

Safe Upholstery Restoration: Throughout my 25 years in the industry, I have washed almost every material of upholstery out there. So you can be sure that I have figured out the most effective ways to provide my clients with the results they are looking for.

Tile and Grout: Vinyl and linoleum cleaning is important and so is tile and grout. With a specially designed tile scrubbing machine and heavy duty washing agents, I can get rid of those dirty, ugly grout lines. I am able to achieve this with the use of high temperatures and high pressure equipment. After the initial scrubbing, I go over the surface a second time with an acid detergent that is designed specifically for tile floors. This will make it look BRAND NEW!
Trust Healthy Home for Your Vinyl and Linoleum Cleaning Needs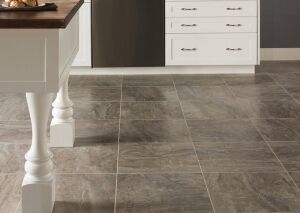 Before my success in Florida, I was first successful with vinyl and linoleum cleaning and my other services in Connecticut for over 18 years.
Clients loved my services because I always provided my very best work to keep them happy as well as earn their repeated business.
I stick to my guarantee of: "This Will Be Your Best Service Ever- OR IT'S FREE!"
Upkeep is important to every aspect of your home in Dunedin, Palm Harbor, or Clearwater, so make your home cleaner and healthier with any of these services. For more information about any of the services I provide or for a free quote, give me a call today at (727) 599-4252. Make sure to make vinyl and linoleum cleaning the priority it should be!